CBS/YouGov Poll: 63% Don't Trust Trump
In a new CBS/YouGov poll, 63% of respondents say they do not trust President Trump with providing medical information about the coronavirus outbreak.
This is yet another poll in recent days that will likely not sit well with the ratings-obsessed president.
As Trump and the right-wing media continue to lambast the experts, respondents appear to trust the experts more than ever.
The poll additionally shows that 78% of people trust the CDC, 86% trust scientists and medical professionals and their own doctors, and 61% trust their friends and family.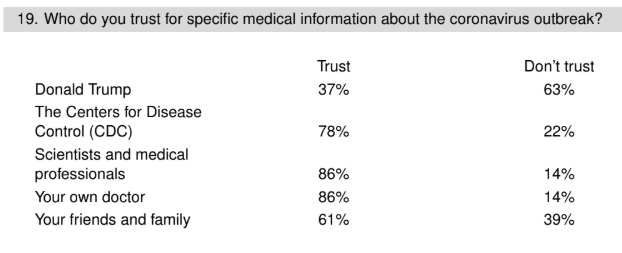 As social distancing recommendations begin to show promise, the president continues to express a desire to 'open the economy' as soon as possible.
Trump has infamously peddled Hydroxychloroquine as a possible coronavirus cure, despite the fact that the drug has thus far been unproven in medical studies.