Like much of the country, we've been holed up in quarantine looking for something to take our minds off the hell scape in which we find ourselves. In came Tiger King, a Netflix true crime docu-series about the eccentric mullet-sportin', gun-totin' megalomaniac Joe Exotic, former owner of an exotic animal park in Oklahoma.
As each episode passed, we could not help but realize one fundamental truth: Donald Trump and Joe Exotic are the same sociopath. Don't believe us? The facts don't lie:
Ridiculous Haircuts
Let's begin with the superficial, 'cause, why not. Donald Trump and Joe Exotic are both defined by their over-the-top, silly hairstyles. Both men rock a long, blonde, combed-back cut that seems to defy the laws of physics.
Obsession with Women Who Pose a Threat
Both men have a penchant for demeaning, attacking and ridicule women whom they view as a threat. Joe Exotic targeted his arch-nemesis, a cool cat and kitten (who may have killed her ex-husband and fed him to tigers) named Carole Baskin who runs an animal sanctuary named Big Cat Rescue. President Trump obsesses over female counterparts in much the same way. He repeatedly threatens to 'lock up' rival Hillary Clinton and calls Speaker of the House Nancy Pelosi a 'nasty, vindictive, horrible person.'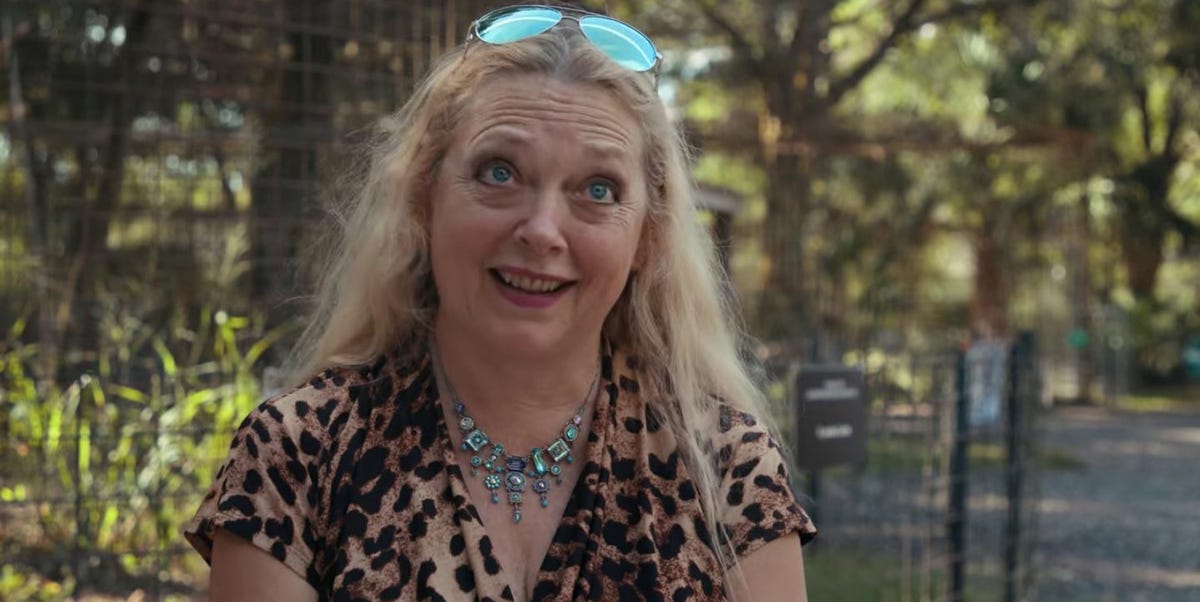 Multiple Love Partners
President Trump and Joe Exotic both enjoy the company multiple love partners. While Mr. Exotic is not afraid to publicize his admitted polygamy, Trump allegedly snuck around with many women throughout his marriage. Most notably, the president allegedly had an affair with porn actress Stormy Daniels while his wife was pregnant with his son Barron.
Presidential Runs
When both men announced presidential bids, the received a tremendous amount of mockery from the public. But in fact, each man found a surprisingly strong following among the 'everyman.' When Joe Exotic gave up his presidential bid to run for governor, he received over 10% of the vote. Throughout the campaign, supporters hoisted him up as a man of the people who would rail against Obamacare and pesky government regulations. Sound familiar?
Cheaping Out on Paying Staff
Throughout their careers, both men have been plagued by accusations that they pay their staff very little, or even not at all. Workers at Joe's exotic animal farm admit that they were only paid $200 a week for round the clock work. Trump, despite his image as the 'blue collar billionaire,' is known for stiffing contractors and employees.
Florida Men
Both Donald Trump and Joe Exotic just can't get enough of Florida. While the Tiger King spent a great deal of time in Florida harassing Carole Baskin and taking dips in the Atlantic, Donald Trump has made Florida his second home – even dubbing his Mar-a-Lago resort the 'Winter White House.'
Run-Ins with the Feds
Last but not least, both men encountered run-ins with the law. Joe Exotic was sentenced to 22 years in prison, convicted of a murder-for-hire plot and multiple wildlife violations. Donald Trump has so many legal issues that Wikipedia has a loooooooooong page dedicated to them. Trumps legal issues range from the benign, to allegations of links to organized crime, misusing charitable funds, conning students at Trump University, destroying documents, interfering with the election system and more. To date, the Feds have not convicted Trump on any charges to send him to prison. Maybe it has something to do with a well-publicized inexplicable DOJ policy that states a sitting president can't be charged with a crime.
Here's the thing. Like Joe Exotic couldn't help himself in regards to Carole Baskin, Donald Trump cannot help but repeat his past criminal efforts.
Only time will tell if he'll share the same fate as his hillbilly doppelgänger.
Read more in this flawless thread by political analyst Jared Yates Sexton.