Florida Gov DeSantis' Coronavirus Measures Too Little, Too Late
Florida Governor Ron DeSantis will sign an executive order codifying "safer at home" rules for Miami-Dade, Borward, Palm Beach and Monroe counties, reports NYTimes Miami bureau chief Patricia Mazzei.
The governor's actions come as cases of COVID–19 continue to skyrocket in the state, while some claim that Florida is the next coronavirus epicenter.
"If you wait until you can see the impact [of COVID-19], it is too late to stop it."

– Yale Environment 360
Until now, Governor DeSantis has resisted pressure from medical experts and officials to implement preventative "stay at home" measures. This reluctance held despite videos of packed Florida beaches and spring breakers who insisted, "If I get corona, I get corona." The governor even tried to blame New York for his state's growing problem.
As recently as Sunday, hundreds of faithfuls packed a Tampa megachurch in defiance of public health recommendations.
Looking forward
As noted by Yale Environment 360, "If you wait until you can see the impact [of COVID-19], it is too late to stop it."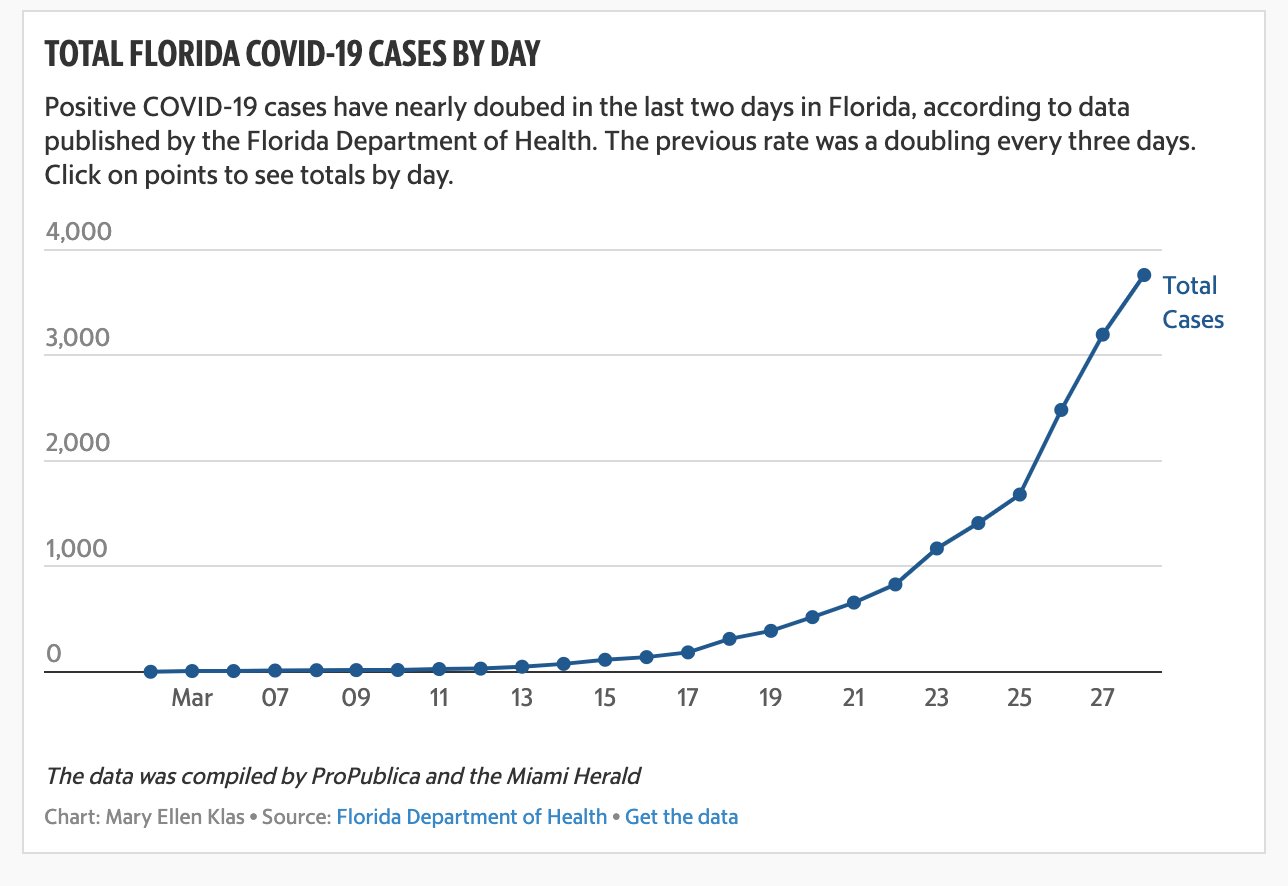 Florida's curve is now headed towards exponential growth. Additionally, the state has leaped to fourth in confirmed cases of the deadly coronavirus, with over 5,464 as of the writing of this post
While the newly announced measures from Governor DeSantis are welcomed and needed, they are far too little, and far too late.
Implementing an order targeting specific counties will likely do nothing to contain the spread. Desparate times call for effective measures.
Viruses don't care about politics, and they certainly don't give a damn about borders.