What the Hell is Happening in Michigan?
*Editors note: Full disclosure the writer of this article did graduate from The Ohio State University. However this doesn't change the fact that Michigan is doing some abominable sh*t.
What is going on in Michigan? No really, what the hell is going on?!
On Wednesday, #OperationGridlock was in full effect in the state of Michigan as protesters, fed up with the state's stay-at-home order, took to the streets of Lansing in an effort to jam traffic with their cars – effectively making it impossible for doctors, nurses and first responders to do their jobs.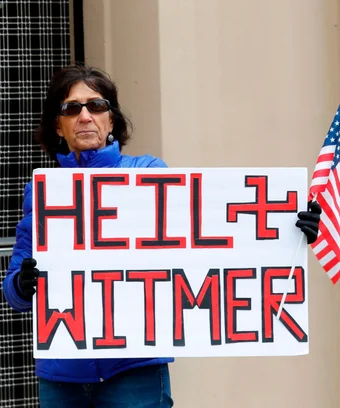 As reported by CNN, the protest was organized by the Michigan Conservative Coalition and the Michigan Freedom Fund, two conservative alt-right groups who are demanding that the state's governor re-open businesses immediately.
This protest came on the heels of Gov. Gretchen Whitmer extending her state's "Stay Home-Stay Safe" order through April 30 in an effort to slow the spread.
Protesting is one of the single most patriotic acts an average person can participate in. However, when these same protests are accompanied by Confederate & Nazi flags with a touch of anti-science, conspiratorial rhetoric sprinkled in, well then, as the kids say, you're doing it wrong.